TERELJ NATIONAL PARK & GENGHIS KHAANS STATUE TOUR
DETAILS:
Your driver and guide will pick you up from your stay in Ulaanbaatar at 8:00 am.
Start the tour and drive to Genghis Khaan's statute. Visit exhibition halls in the base building then take an elevator and get on the saddle of Genghis Khaan's statue. After that, drive to Terelj National park. Eat lunch at the resort in Terelj National park. Ride a horse for 1 hour and hike to Ariyapala meditation temple. Return to Ulaanbaatar. Transfer to your hotel. End the trip. Total driving length: 160km
- Explore Terelj national park.
- Visit the equestrian statue of Genghis Khaan.
- Enjoy hiking around.
- Experience horse riding.
- Visit Ariyapala meditation temple.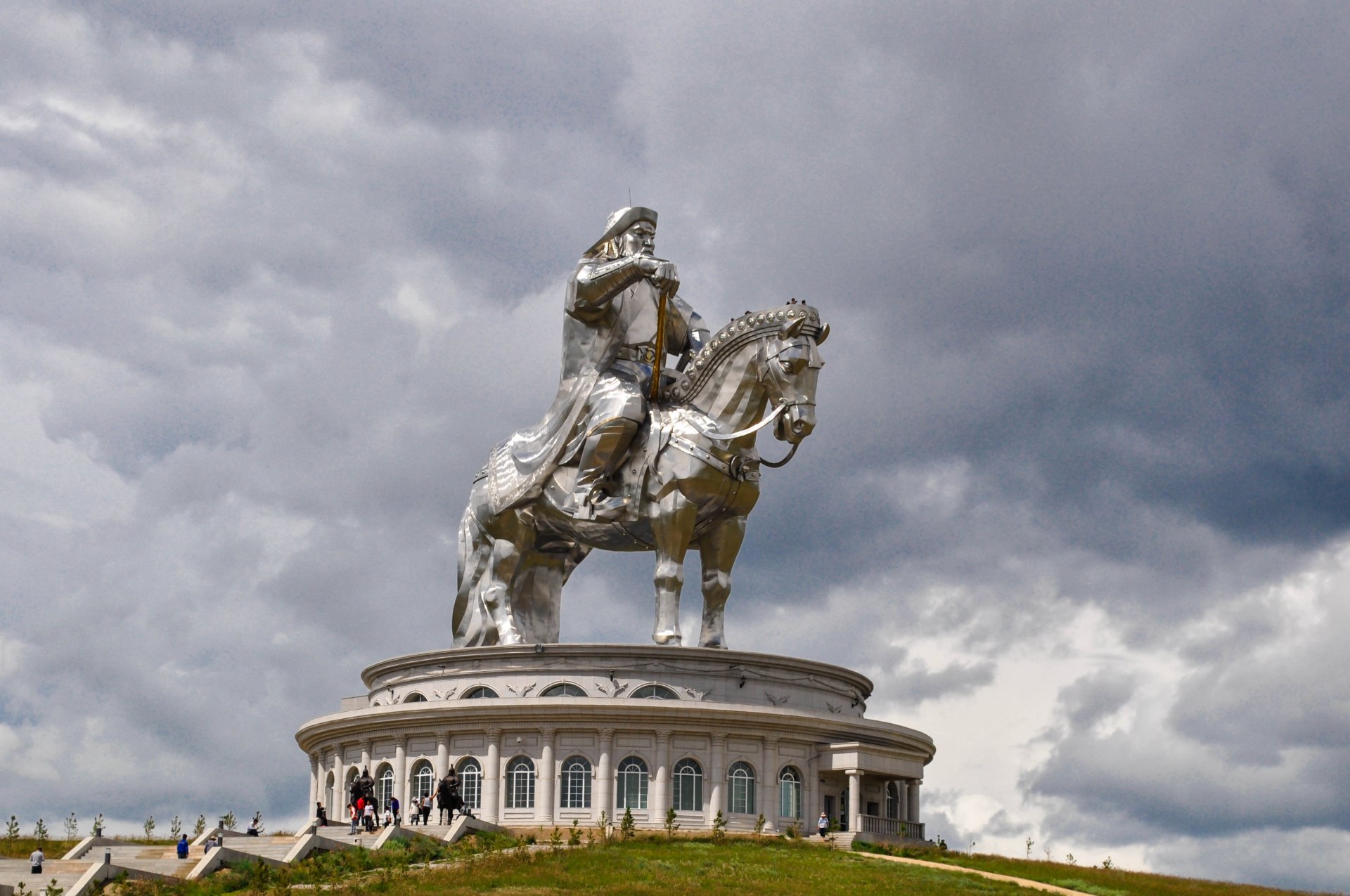 The Genghis Khan Equestrian Statue, part of the Genghis Khan Statue Complex, is a 40-metre (130 ft) tall, stainless steel statue of Genghis Khan on horseback and the world's tallest equestrian statue. It is located on the bank of the Tuul River at Tsonjin Boldog, 54 km (33.55 mi) east of the capital Ulaanbaatar, where, according to legend, he found a golden whip. The statue is symbolically pointed east towards his birthplace. It is on top of the Genghis Khan Statue Complex, a visitor center, itself 10 meters (33 ft) tall, with 36 columns representing the 36 khans from Genghis to Ligdan Khan. It was designed by sculptor D. Erdenebileg and architect J. Enkhjargal and erected in 2008.
Visitors walk to the head of the horse through its chest and neck, where they have a panoramic view. The main statue area will be surrounded by 200 gers, designed and arranged like the pattern of the horse brand marks that were used by the 13th century Mongol tribes.
Gorkhi- Terelj National park is the most visited and one of the most beautiful national parks in Mongolia. It is situated 66kms in the northeast of capital Ulaanbaatar and occupies 292,000 hectares of area.
This national park is named after the spring flower rhododendron. Gorkhi means river, Terelj means rhododendron. Beauce the river Tuul is running through the park and the pink rhododendron blooms here in spring.
There are many interesting formations of granite rocks such as the Turtle rock which is the symbol of the park, Man rock, and Cave of 100 lamas, etc.
Ariyapala meditation temple is another main attraction in this park.
There will be plenty of optional activities for the visitors such as hiking, riding ATV, golf, rock climbing, horse riding, walking on a hanging bridge, etc.
INCLUSION
Air-conditioned car
Fuel
Service of English-speaking guide
All taxes and entrance fees to the protected areas
Sightseeing cost
Horse riding cost
Lunch
Bottled water
EXCLUSION
International transportation
Travel and medical insurance
Hotel in UB